Inspire Café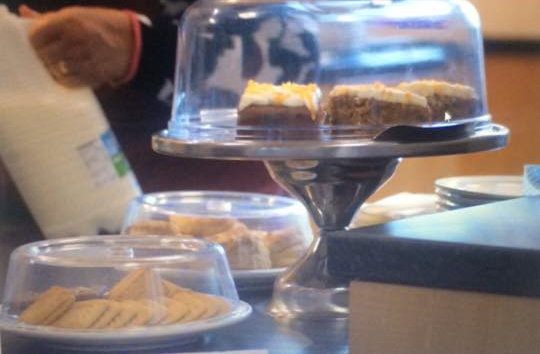 The Centre runs the Inspire Café, is a welcoming, non-judgmental venue where everyone is accepted without distinction.
We have disabled and baby changing facilities, free Wi-Fi, a children's play area and we welcome dogs.
The Café is a community venture managed by the Strand Community Trust and (with the exception of our Chef, Paul Lentle) it is run by volunteers. We pride ourselves on offering healthy, homemade food, Fair Trade tea and coffee and freshly baked cakes at a great price in a welcoming setting.
We support the Suspended Coffee programme by which people can give to the suspended pot, and out of which those struggling financially can have a free hot drink.
Inspire Café Opening Hours
Monday to Friday – 10 am to 2 pm
Saturday – 10 am to 3 pm
Menu
The menu varies each day but usually includes:
Choice of a roast or casserole
Sausage & mash
Vegetarian roast, bolognaise, sausages etc
Freshly baked potato with a variety of fillings
Bacon baps, pasties
Prepared to order sandwiches to eat in or take away
Hot pudding -sponge & custard, trifle, rice pudding
Freshly made cakes
There is a daily Community Lunch of a roast and hot drink (£4) and with a hot pudding (£6) – children half-price. This is subsidised by donations.
Takeaway service
Frozen main courses are available to buy. They are also distributed to families in need at no cost.
"I came to Dawlish after l lost my wife. I went to several local cafés and no one spoke to me. Somehow I came into the Inspire Café, immediately made friends and now I come most days. It's my real home."
male 79 year old