The Auditorium
The Auditorium is the nave of the church and it is open every day in the week.
On Sundays it is the home of the Strand Church, and on the other days it is the home of the Inspire Café. It hosts a wide variety of community activities; these include public meetings, exhibitions, concerts, dances, craft and antique fairs and physical activities like karate and line dancing.
The Strand Hall
The Strand Hall used to be the Hamilton Hall. Access to this part of the Centre is from the Auditorium, or from its two entrances off Lawn Hill.
It has a large hall with adjacent well equipped kitchen, which is used for small meetings and various groups including two ballet classes.
Meeting rooms
Upstairs it has three meetings rooms. There is a well equipped kitchen and toilet on this upper floor.
The Lounge
The Lounge is comfortably appointed and can accommodate about 12 people round a table, or 25+ for a meeting with a speaker.
The Carey Room
The Carey Room is useful for smaller meetings (8 round a table or 12 for another meeting).
The Garden Room
The Garden Room is useful for private conversations for up to six people.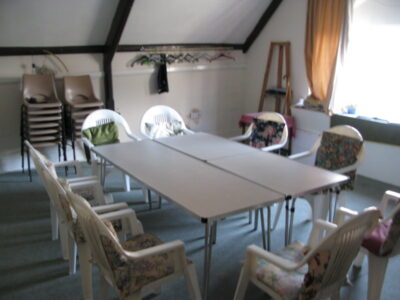 Download a plan of the facilities at the Strand Centre